Park Area
The Marine Park includes the sea area and islets of Laganas Bay, the nesting beaches of loggerhead sea turtle and a land area surrounding them, the wetland of Keri Lake and Strofades Islands, located about 40 miles south of Zakynthos.
Zakynthos is the most important nesting habitat for loggerhead sea turtles in the Mediterranean. It should be noted that Greece is the only European country, where sea turtles Caretta caretta nest.
Furthermore, a permanent population of the endangered species seal Monachus monachus, can be found on the west coast of Zakynthos.
The area of the National Marine Park of Zakynthos is characterized by different types of ecosystems, of national and European interest, such as dune systems, underwater Posidonia seagrass beds (Posidonia oceanica) and coastal ecosystems. In these are found hundreds of species of flora and fauna.
The map of the Marine Park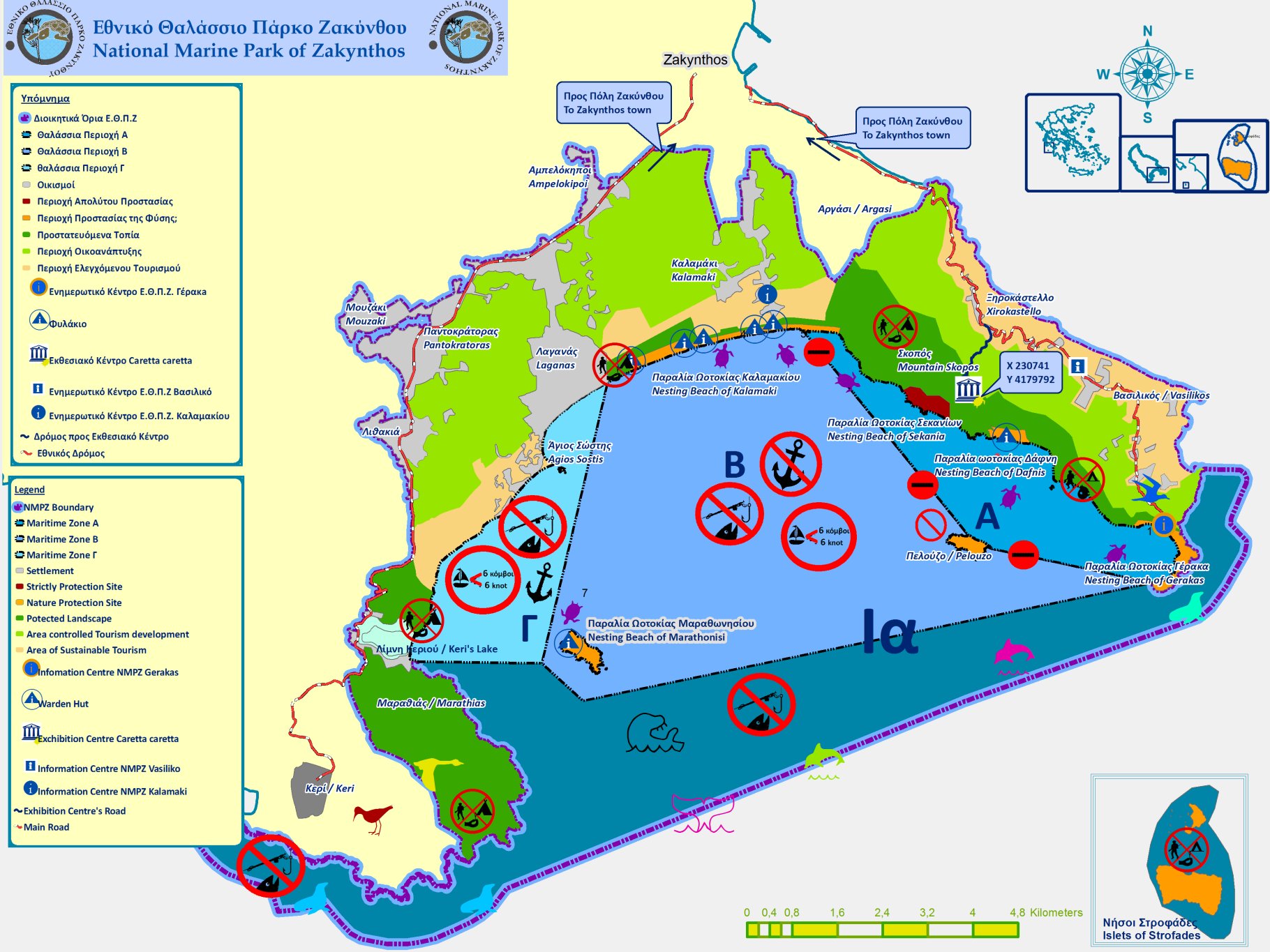 Visitor Attention!
When you visit the beaches of the park ...
We don't visit the nesting beaches during the night.

We do not leave trash behind. We either place itin the bins that are provided on the beach or take it with us if there are no bins. When we leave we devote little time to collect the garbage around us, even if others have left it before us. We urge others who share the same beach to do the same. We call on those who exploit the beaches or the local government to provide rubbish bins and waste baskets.

We do not hesitate to denounce ships and boats that pollute or violate the regulations of the N.M.P.Z. When we realize such events we must inform the Managing Agency of the N.M.P.Z. (Tel. 26950 29870), the Port Authority (tel 26950 28117) or the Police.

We never keep torches or oil lamps lit, nor do we light fires near nesting beaches as adult turtes are sensitive to light and hatchlings are guided by it.

We don't remove sea urchins, starfish and other marine species from the seabed to use them as decorative elements.

If you notice oil spillage immediately inform the Port Authority that has the responsibility to coordinate the clean-up efforts.
When we are in a forest or wooded land must:
Please refrain from smoking.

Do not put fire to create atmosphere for friends or heat food that we took with us.

Do not allow glass or other trash that can cause or help spread the fire.
In a case of fire...
Should call 199 immediately and give firemen the exact location of the fire, the size and direction, how the fire vehicles can have access, our name and phonenumber.
If you find an injured or sick wild animal (turtle, seal, dolphin, bird)
Communicate directly with the Managing Agency of N.M.P.Z. on the phone 2695 0 29870